Patch Cables:
We can supply a variety of custom built patch cables. All cables use double shielded low loss coax with crimp connectors.
Coax Cable:
LMR-400 is a double shielded low loss, 0.405 OD.
(1.4db/100ft@100MHz, 2.6db/100ft@400MHz, 4.2db/100ft@900MHz)
Lighting Protection:
PolyPhaser 50-700 MHz, Type N female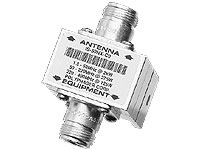 Power Supply:
High current switching DC power supplies with battery backup and charging feature. These supplies are 3½" high rack mount and range from 40 to 100 Amps! They also include built in volt and amp meter.