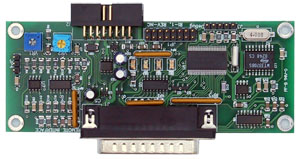 The RI-1 is a single board low cost repeater controller. It supports a full duplexed link or repeater ports and can be connected to the RI-300 auxiliary buss. As a repeater port, it can operate completely independent with its own command processor. The RI-1 can be assigned to any channel on the auxiliary buss.
REPEATER & LINKING CONTROLLER
The RI-1 is a full featured repeater controller that can be customized for your application. Hang time, time out timer, courtesy tones and CW ID interval are all programmable.
INSTALLATION AND SETUP
The RI-1 supports both emphasized and non-emphasized audio. Within the RI-1, the repeat audio path also includes low pass filter and remotely adjustable digital pots.
You can install your controller inside your repeater or inside one of the optional chassis.
The RI-1 includes a programming port where you can modify all system functions from your PC/Windows95, 98, ME, NT, 2000 or XP operating system. You can save, upload and download files to your repeater controller.
USER PROGRAMMABLE INPUTS AND OUTPUTS
The RI-1 has 2 digital inputs and 2 digital outputs and is expandable to 8 outputs. These inputs and outputs are user programmable. The inputs can trigger macros and change the controller operation. These inputs can be used for alarms and many other applications. The output can be directly controlled or controlled with macros. The outputs can be used to turn on or off external items or by using programmable timers and internal events the outputs can be use to automatically turn on and off an external fan when the transmitter is on the air.
MACRO PROGRAMMING EDITOR
The RI-1's macro command editor is unlike many other macro editors, for a controller its size and price. You can create and assign a 1 to 5 digit name for your own custom user commands. The RI-1 comes preprogrammed with some user commands, including turning the repeater, TSQ and other items on and off.
PROGRAMMABLE TONE GENERATORS
The RI-1 has 2 programmable sine wave tone generators. Both of these generators are individually controllable as to frequency and level. The frequency is adjustable from 500 Hz to 2500 Hz. The level is adjustable in a range of 0% to 100% in 10% steps. You can then use the output of these generators to send Morse code or various beeps.
AUXILIARY EXPANSION BUSS
The RI-1 has a full duplex auxiliary expansion buss. You can connect the RI-1 to another RI-1 or to a RI-300 controller together to create links or remotes. Controllers can even pass commands to each other. On the expansion buss, a controller can operate as a repeater, link or remote base. This auxiliary buss architecture of independent controllers for each radio ensures maximum flexibility and reliable operation of your system.
REMOTELY ADJUSTABLE AUDIO
The RI-1 includes a digital potentiometer that can be remotely controlled. The repeat audio level can be remotely adjusted.USER PROGRAMMING
The RI-1 can be completely customized to meet your application requirements using innovative programming mode and custom software.
The programming mode has security password features to avoid unauthorized programming access. Through programming, you can setup your controller by creating macros with System Commands. You can access and program the RI-1 over the programming port, while the repeater is on the air and without the repeater users knowledge. Using the programming software, you can read the current program load into your computer, make modifications and reload your changes to the controller. The programming software runs on Windows95, 98, ME, NT, 2000 and XP.
STANDARD FEATURES
Active high and/or active low NSQ (Squelch) and TSQ (CTCSS) inputs.
Active high or active low PTT output.
Two sine tone generators with frequency control.
DTMF decode.
Fully programmable user command and macro editor.
Digital potentiometers, remotely critical audio levels.
Status LED display .
NON-VOLATILE EEPROM data storage.
All features are programmable in a windows programming interface.
Watchdog and power supply supervision.
2 user programmable digital outputs, expandable to 10.
2 user programmable digital inputs.
Supports Remote control of Synthesized radios.
Supports serial data control to EchoLink.
Transmit audio select, Flat and Pre-Emphasis.
Receiver audio select, Flat and De-Emphasis.
SPECIFICATION
Operating voltage: 10 to 15 volts DC
Operating current: less than 20 mA
Size: 1.8 x 4.0
Temperature Range: -30°C to +60°C
CPU: CY8C27643
Audio response: ±0.75db, 300 – 3500 Hz
Hum and Noise: -45db
Radio connection: DB-25
PRODUCT PRICING
Contact your local dealer or Pacific Research for current pricing
One Year Warranty, Made in USA