(OBSOLETE, See PE-1)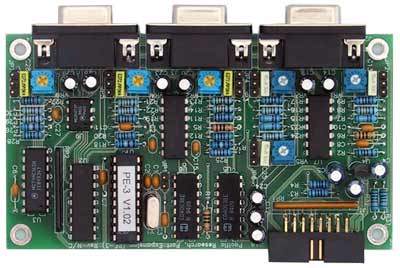 The PE-3 is a single circuit board that is connected directly to the RI-300 auxiliary buss to add 3 link ports to the controller.  In addition, you can plug up to 2 PE-3s on the auxiliary buss, adding a total of 6 link ports to 1 or 2 controllers.
The PE-3 supports 3 identical full duplex link ports.  This means that any port can be configured to output and input audio at the same time.  The only limits to the PE-3's audio routing is that you cannot repeat audio on a port and you cannot connect ports together on the PE-3.  The PE-3 can also support various remote base options.  Any or all ports can be connected to the Doug Hall RBI-1 or the Pacific Research FTL-RBI.
STANDARD FEATURES
Transmit audio level output adjust on each port.
Receiver audio level input adjust on each port.
Transmit audio select, Flat and Pre-Emphasis.
Receiver audio select, Flat and De-Emphasis.
Transmit audio auxiliary buss channel select.
Doug Hall RBI-3 full feature support on each port.
Pacific Research FTL-RBI full feature support on each port.
User programmable output functions, 1 and optional 8 on each port.
COS and TSQ active level select for each port.
PROGRAMMABLE FEATURES
Port I/O enable.
User function outputs.
Transmit carrier delay time.
Doug Hall RBI-1 interface.
FTL-RBI interface.
SPECIFICATION
Operating voltage: 10 to 15 volts DC, from auxiliary buss
Operating current: less than 20 mA
Size: 2.5 x 4.5
Temperature Range: -30°C to +60°C
CPU: Philips P87LPC768 with 2K OTP and 128 of RAM
Audio response: ±0.75db, 300 – 3500 Hz
Hum and Noise: -45db
Radio connection: DB-9
Auxiliary buss: 8 Channel
PRODUCT PRICING
Contact your local dealer or Pacific Research for current pricing
One Year Warranty, Made in USA